GoldMine
1.1
An action puzzle challenge second to none, GoldMine is the int13 tribute to a classic of the heigties.
Last update
20 Mar. 2006
Licence
Free to try |

$7.95
OS Support
Mobile
Downloads
Total: 166 | Last week: 0
Ranking
#31 in Games
Publisher
Int13 Production
GoldMine Publisher's Description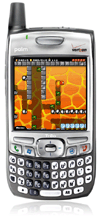 New! V1.1 square screen compatible
If you have a Palm Treo 700w or an HP iPaq hw6515,
you don't need to download a specific version of our Deluxe Arcade Pack for Windows Mobile Pocket PC.
GoldMine by int13 production

Collect gold and avoid falling boulders in this action/reflexion game!

Watch out for the nasties whilst collecting as much ore as you can.

This game requires a creative mind and dexterity, but the included tutorial and pre-recorded demo levels are designed to help beginners.

Get ready to meet the challenge and get through the numerous levels!
Screenshots






Features



Extremely polished design.

Bright and colorful graphics enhanced with particles and alpha blending effects

Smooth gameplay, with intuitive stylus or keypad controls

Optimized 2D engine providing high refresh rate on all devices (60FPS on most devices)
30 challenging levels
Many hours of gaming, GoldMine is not a game that ends quickly.
Small footprint (less than 1MB of storage)
Built-in WYSIWYG level editor to create your own levels and share them with friends








Other products :



More infos at : http://int13.net
Look for Similar Items by Category
Feedback